In case you're wondering what I ended up doing on New Year's Eve (yoga or party) it was more of the latter. All the spots filled up for yoga so I missed my chance. Apparently I wasn't the only one interested in some down-dog on NYE. Instead we went to Bombay. Not literally, but I wish. We gorged ourselves on incredible Indian fare at a fantastic spot in Hillcrest.
After a deliciously filling dinner and a bottle of wine we went to a few parties in the neighborhood. Classy, cozy and fabulous – exactly what we had in mind. Eventually we rounded out the night at a bar where we danced for the length of approximately 3 songs. This part of the night was not so classy. It was fun to jump around on the packed dance floor but suddenly we felt old. We were both sleepy and ready for bed.
I was really digging that wine, apparently.
Ang always closes one eye when she smiles.
She can't help it & I think it's cute 😉
And guess where we went for lunch the next day? Right back to Bombay to enjoy their buffet. Have I mentioned that I have an incredibly addictive personality? When I find something I love, I suddenly want it every single day. One month I was addicted to frozen yogurt (pre-vegan days), cinnamon-raisin peanut butter, pretzel bagels, roasted pine nut cous-cous, and so on. Welcome to my life. So we started 2011 off right with a massive assortment of Indian foods to get my fix. This one might require some rehab.
I made my way through 4 1/2 books in the last 2 weekends. Yes, I have a life! I also enjoy reading. It may actually fall into that addictive personality thing I mentioned earlier. With extra time off I have conquered much of my '
To Read'
stack. In just one night I completed
My Life On The Run
by Bart Yasso. Love him or hate him, it's a fascinating read. I personally think he is a fantastic guy. I love his zest for life and his sense of adventure. His motto is one that I personally believe strongly in:
"Live simply so others can simply live."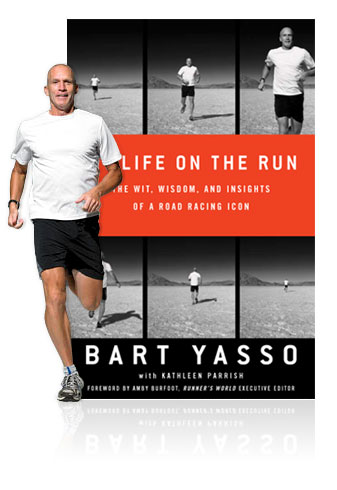 This concept is most applicaple in reference to vegetarianism. For example, according to the U.N., it takes up to 16 pounds of grain to produce just 1 pound of meat, and even fish on fish farms must be fed up to 5 pounds of wild-caught fish to produce 1 pound of farmed fish flesh. It takes more than 11 times as much fossil fuel to make one calorie from animal protein as it does to make one calorie from plant protein. Did I mention Bart Yasso has been a vegetarian since 1982? More reason to love him.
I couldn't put this book down. Since I haven't been able to travel much internationally this past year, I was able to live vicariously through his stories. He writes about running in India, Africa, Antarctica and cycling across the United States. His battle with Lyme Disease serves as an inspiration and his not-so-perfect childhood is easily relateable. His hunger and love for running landed him a lifelong career in
running
. There are few people that can say that. Jenny Hadfield is another one of those people (I wrote about running with her
here
). I would love to make a career out of the very thing I love most.
I have run on 3 continents (Europe, Africa and of course, North America) and am inspired to run on every single one before I die. Hopefully, that isn't any time soon.
I am even contemplating using one of Bart's marathon training plans for Chicago this year. I like his plans far more than the current one I am using from Runner's World and prefer the higher mileage.
In memory of my last run of 2010…
Bright and sunny- San Diego style
…and sadly, the first run of 2011.
Freezing cold rain storm
Mother nature kicked my butt this weekend. End of story.
I only have one 18 miler and a 20 miler left on the books before
Surf City
. I can't believe my "big day" is just around the corner. February 6th will be here before I know it.
You might also like